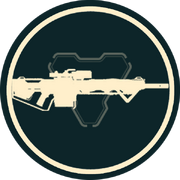 Sniper Rifle is a hand held weapon in Anthem.
Unlike other weapons, Sniper Rifles do not fire when the trigger is released. They can only fire when in scoped mode.

Sniper Rifles have the lowest rate of fire and magazine sized, but the highest damage potential of all weapon classes. They can damage enemies from a long distance and on their weak points.
List of Sniper Rifles
| Epic and Lower | Masterwork and Higher |
| --- | --- |
| | |
Inscriptions
Sniper Rifle Weapon class are affected by several inscriptions.

Damage Inscriptions
The following inscriptions affect Sniper Rifles damage:
Weapon Damage
Physical Damage
Damage
Sniper Damage
Weak point Damage
Quality Inscriptions
The Following inscriptions affect other qualities of Sniper Rifles:
Weapon Ammo
Weapon Magazine Size
Weapon Hip Recoil
Weapon Reload
Sniper Rifle Ammo
Consumables
Sniper Rifles are affected by the following consumables:
Trivia
Truth of Tarsis is the only combat item in the game that can do Combo Chains, which is the combo effect of the Storm javelin.
Sniper Rifles have a very low magazine size, making them effective when the inversions Broken Magazine and Running on Empty are used in Seasonal Expeditions.