"Shaper instruments! Never a dull moment."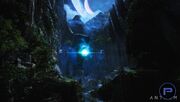 Shaper relics are the massive tools used by the Shapers to create the world, which were able to tap into the mysterious Anthem of Creation to form it. The Shapers endeavoured to complete their work in nine days, but suddenly vanished on the third, leaving their instruments behind.[1]
In the present day, these relics litter the landscape.[2] While the relics have been long abandoned they are by no means dormant.[3] They continue to tap into "echoes" of the Anthem of Creation[2] and activate at random with often destructive consequences, leaving the world in a constant state of change and largely inhospitable, save for the Freelancers, equipped with Javelin exosuits.[3] The relics can both spawn life, and mutate existing life.[4]
When the relics tap into the Anthem, reality itself is affected. This can cause reality to collapse if the equations behind the use are in error.[5]
Known Relics
Trivia
In comparison to real-world technology, the Shaper relics are said to be millennia ahead of 21st century technology.[6]
References