The Sentinels are a major human faction.
Overview
"
We protect the Royal House of Bastion and all its subjects.
We are the arm of the Royal House of Bastion, which must be obeyed.
We bring justice, for without justice there is no order.
And without order, there is anarchy.
"

— Sentinel vow
After the death of Helena Tarsis, the Legion of Dawn split into three factions. The Sentinels are one of these three, alongside the Freelancers and Dominion.[1]
In the current day, the Sentinels are the chief upholders of the law throughout the cities and settlements of the world,[2] including Antium, where they serve as the city's primary defensive force.[3] Operating from Fort Tarsis, they believe in justice and order above all else, and see themselves as a bulwark protecting the people from the chaos of the outside world. In the eyes of the Sentinel leadership, the Freelancers are a ragtag outfit whose fierce independence makes them unreliable.[2] As such, they rarely coordinate with them.[3] Still, like the Freelancers, the Sentinels venerate Helena Tarsis.[4]
The Sentinels have access to their own Javelins, though tend to stay close to Fort Tarsis, keeping the populace safe from direct threats.[3] The Ranger is their Javelin of choice for frontline work.[5]
Known Sentinels
Trivia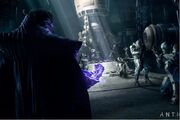 The Sentinels have been described as an in-universe equivalent of a royal guard[5] or "fantasy police."[6]
The Rangers employed by Fort Tarsis's Sentinels are incredibly primitive, utterly lacking any form of ordinance or repair systems and having only a basic, double-jump propulsion system.
References
Community content is available under
CC-BY-SA
unless otherwise noted.