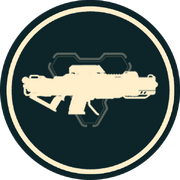 Marksman rifle is one of a primary weapon in Anthem. They do relatively high damage from a distance, somewhere in between assault and sniper rifles. These weapons can be used by all javelins.
Marksman rifles are essentially supposed to be Sniper rifles that do not require zooming in. Marksman rifles do not do much damage on their own, but can do massive amount of weak point damage. Their effectiveness relies on the skill of a lancer's ability to quickly shoot enemy weak points.

List of Marksman Rifles
| Epic and Lower | Masterwork and Higher |
| --- | --- |
| | |
Inscriptions
Marksman Rifle Weapon class are affected by several inscriptions.

Damage Inscriptions
The following inscriptions affect Marksman Rifles damage:
Weapon Damage
Physical Damage
Damage
Marksman Rifle Damage
Weak point Damage
Elemental Damage (For the Masterwork perk of Thunderbolt of Yvenia only)
Quality Inscriptions
The Following inscriptions affect other qualities of Marksman Rifles:
Weapon Ammo
Weapon Magazine Size
Weapon Hip Recoil
Weapon Reload
Marksman Rifle Ammo
Consumables
Marksman Rifles are affected by the following consumables:
Trivia
Light of the Legion is a unique Marksman Rilfe that has a Legion of Dawn design on it and an excellent masterwork perk. It also has a highest power Level of 45 It cannot be obtained in-game. The only way obtain it is to pre-order Anthem (any edition) or upgrade it to the Legion of Dawn Edition.