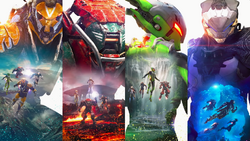 Javelins are powered exo-skeletal suits worn by Freelancers when exploring the world of Coda beyond the walls of Fort Tarsis. They grant their wearers superhuman capabilities and are heavily modifiable, allowing for an array of unique individual models.
There are 4 Javelin Types:
Overview

Javelins are among the most advanced technology humanity uses.[1] The presence of Shaper artifacts allowed humans to fashion the exosuits with limited resources and embers, even while the rest of their technology lagged behind.[1] The first javelin ever built was the Javelin of Dawn, created by Arden Vassa, equipped by the Legendary General Helena Tarsis. One was given to every member of the Legion of Dawn who passed certain tests. The Javelin of Dawn served as the precursor to the Colossus.[2]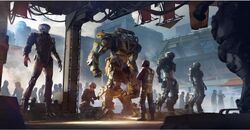 In the present day, javelins are constructed from various parts, cobbled together by Freelancers[3] or handcrafted by the Engineers and Arcanists.[4] The knowledge of how to build javelins has been passed down from generation to generation, in a tradition spanning centuries.[5] Not everyone can pilot one of these suits, and they aren't ubiquitous. Rigorous training is necessary to pilot them safely. Everything in Coda and in Bastion is painstakingly handmade, so javelins are a finite resource, and therefore those who pilot them are the few who can step outside the walls of Fort Tarsis[3]. Because of this, javelins are afforded a level of reverence.[1] They are also passed down from one generation to the next.[6] Freelancers begin training with the Ranger-class of javelins before moving onto other models.[7] Expert pilots use every advantage as they take down enemies with ruthless efficiency.
The javelin and/or its pilot can be linked with a cypher. The cypher can help the pilot see where their long-range weaponry will impact.[8]
Javelins are taller than the humans who pilot them. The human's foot comes to rest on the javelin's knees.[9] The art of Anthem states that javelins are 7 to 9 feet tall, depending upon the class.
Gameplay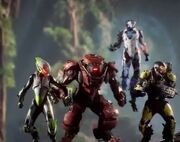 There are four classes of javelins, each specializing in a different role when it comes to combat.[10] All javelins have specialized locked-in melee attacks and an ultimate ability. Beyond that, the javelin can be customized in many ways through wear states, paint jobs, materials, vinyls and animations.[10]
A Javelin can equip up to two guns after reaching level two, and three gear pieces.[1] The javelin's appearance changes slightly depending on what gear is equipped.[11] Each javelin has a special ultimate, specific to the class[12] While using the ultimate, the javelin is invulnerable.[13] Javelins have a power level defined by the score of the items equipped in the combat loadout.
Javelins are flight-capable for short periods of time. As they fly, heat builds up. Flying through water will cool off the javelin, allowing its heat gauge to be reset.[14]
Similarly, if players go into a nosedive, the heat gauge will also go down due to the rushing air.[11] If the heat gauge reaches its limit, the player's javelin will fall to the ground. Players have some level of control over their javelin's fall[9] and can do a jump to land on feet.
Javelins can operate underwater but have an oxygen meter. Javelins can be damaged by the environment as well if they are in acid, lava, rip streams etc. Downed javelins can be revived by allies if playing in a squad[15]. If players don't want to wait to be revived, they can opt to re-spawn at the last checkpoint.[9]
Outside of combat, all javelins fly at the same pace. However, by using different movement combinations, javelins can move at a different pace in this order: Interceptor, Ranger, Storm, and Colossus.
As javelins take damage, their appearance will change to reflect their damaged states or ability usage. For example, sparks can fly from a severely damaged javelin, or Storm's seals can glow according to the color of the element being used. However, losing health does not impact the javelin's ability to perform during combat. To restore health, players must pick armor resupply packs (red). No Armor regeneration system exists, but Javelin shields can regenerate after a while. Ammo resupply (green) can drop when enemies are defeated.[9]
Players cannot come out of their javelin while in the field. The only exceptions are some story-specific scenarios.
[16]
While outside the fort, javelin type cannot be changed, however, the forge is accessible through a pocket portal system to modify the javelin's loadout and appearance
[17]
.

Javelins are not analogous to classes of other games, in that the player can switch between javelins at will[18].
Players start with a prototype MK.II Ranger-type javelin with a distinct helmet which cannot be obtained in game by any means. At levels 2, 8, 16 and 26 players can unlock any one javelin.[9] Players can select loadouts for their javelins.[19]
Javelins are stored at Fort Tarsis[1] or in the Launch bay. Previously, they could be stored in the player's Strider, but this system was scrapped. However, they won't be able to switch between javelins while in combat.[19]
The player character was supposed to receive upgrades of their own independent of the javelin being used and can be transferred between suits.[18][18] This was the pilot mastery system, which was supposed to arrive during Act 1, but was pushed forward indefinitely.
Cosmetics can be earned by completing challenge or unocked through limited time currencies such as elysian keys or purchased using in-game currencies like coin and crystals. They can also be purchased using premium currency called shards bought using real money. The gender of the player's Freelancer will affect the appearance of some of the "lighter" javelin suits, sometimes during cut-scenes.[20]
Additional javelins may be added post-release. It has been indicated that these javelins may require real-world currency to purchase.[21]
Types
Images
Trivia
Javelins have different functioning sub-types, depending on the faction that produced them.
It was originally stated that the Freelancers were uniquely qualified to pilot Javelins.[22] By freelancers, it was probably meant as Lancers in general. In-game lore states that the Legion of Dawn were the ones that were uniquely qualified, meaning anyone trained is fully capable of piloting Javelins.

Despite having no physical training of any kind for Sumner and little to no training for Owen, the two managed to take off in Javelins. Neither were able to properly operate their respective Javelin for long, with Sumner crashing and abandoning his stolen Ranger and Owen locking his javelin because of panicking.
According to the Art of Anthem, during early concepts of the game, javelins couldn't fly, but could only jump or glide.
References
↑ 1.0 1.1 1.2 1.3 1.4 Game Informer - Flying to a New Frontier: How Anthem Explores a Different Kind of Story
↑ YouTube - Strongholds and Interceptor Javelin Gameplay – Anthem Developer Livestream - December 20
↑ Forge available outside the walls: https://twitter.com/UNTDrew/status/1121190625511116805
Community content is available under
CC-BY-SA
unless otherwise noted.