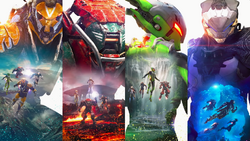 Javelins are powered exo-skeletal suits worn by Freelancers when exploring the world beyond the walls of Fort Tarsis. They grant their wearers superhuman capabilities and are heavily modifiable, allowing for an array of unique individual models.
Overview

Javelins are among the most advanced technology humanity has
access to.[1] The presence of Shaper artifacts allowed humans to fashion the exosuits, even while the rest of their technology lagged behind.[1] The first javelin type was called the Javelin of Dawn, created by Arden Vassa. One was given to every member of the Legion of Dawn. The Javelin of Dawn served as the precursor to the Colossus.[2]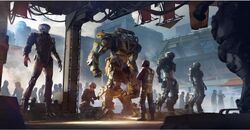 In the current day, javelins are constructed from various parts, cobbled together by Freelancers[3] or handcrafted by the Arcanists.[4] The knowledge of how to build javelins has been passed down from generation to generation, in a tradition spanning centuries.[5] Not everyone can pilot one of these suits, and they aren't ubiquitous. Everything in the world is painstakingly handmade, so javelins are a finite resource, and therefore those who pilot them are the few who can step outside the walls of Fort Tarsis.[3] Because of this, javelins are afforded a level of reverence.[1] They are passed down from one generation to the next.[6] Freelancers begin training with the Ranger-class of javelins before moving onto other models.[7] Expert pilots use every advantage as they take down enemies with ruthless efficiency.
The javelin and/or its pilot can be linked with a cypher. The cypher can help the pilot see where their long-range weaponry will impact.[8]
Javelins are taller than the humans who pilot them. The human's foot comes to rest on the javelin's knees.[9]
Gameplay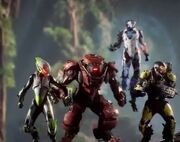 There exist four classes of javelins, each purposed for fulfilling a different combat role.[10] Every javelin has a locked-in melee attack and an ultimate ability. Beyond that, the javelin can be customized;[10] the javelin can equip up to two weapons after reaching level two, and two pieces of gear. Some gear is exclusive to certain javelin types.[1] The javelin's appearance changes slightly depending on what gear is equipped.[11] Gear aside, each javelin has a number of abilities, including an "ultimate" and a "utility" ability.[12] While using the ultimate, the javelin is invulnerable.[13] Javelins don't have their own level; rather, their effectiveness depends on the player level.[13]
Javelins are flight-capable for short periods of time. As they fly, heat builds up. Flying through water will cool off the javelin, allowing its heat gauge to be reset.
[14] Similarly, if players go into a nosedive, the heat gauge will also go down due to the rushing air.[11] If the heat gauge reaches its limit, the player's javelin will fall to the ground. Players have some level of control over their javelin's fall.[9]
Javelins can operate underwater but have a breath meter. Javelins can suffer fall damage. Downed players can be revived by allies if playing in a squad. If players don't want to wait to be revived, they can opt to respawn at the last resupply point.[9]
Outside of combat, all javelins move at the same pace. Inside combat, however, their level of agility varies. As javelins take damage, their appearance will change to reflect their state. However, losing health does not impact the javelin's ability to function. To restore health, players must pick up items. No health regeneration system exists. Similarly, ammo drops for javelins can be found in the world.[9] When operating as part of a team, a javelin can be downed, but revived by a fellow player.[15]
Players cannot leave their javelin while in the field. The only exceptions are some story-specific scenarios.
[16]

Javelins are not analogous to classes of other games, in that the player can switch between javelins at will.
[17] Players start with a prototype MK.II Ranger-type javelin. By the end of the game's story mode, players will have unlocked the other three javelins (at levels 8, 16, and 26). The order players unlock the other javelins is at their discretion, as they choose corresponding missions.[9] Players can select loadouts for their javelins.[18] Up to four players can use javelins at any one time. There is no limit on javelin combinations.[19]
Javelins are stored at Fort Tarsis and the Strider, and players can quickly swap between javelins.[1] However, they won't be able to switch between javelins while in combat.[18] The player character also receives upgrades of their own independent of the javelin being used and can be transferred between suits.[17][17]
Players will be able to recolor javelin skins using colors of their own choice. [20] Players can customize the aesthetics of their javelin through paint schemes and other cosmetic items. Cosmetics will be added to the game post-launch. They can be purchased via micro-transactions[1] or earned in-game. If a player applies a skin to their javelin, the skin isn't used up and can be re-applied at any time.[9] The gender of the player's Freelancer will affect the appearance of some of the "lighter" javelin suits.[21]
Additional javelins may be added post-release. It has been indicated that these javelins may require real-world currency to purchase.[22]
Types
Images
Media
Trivia
Javelins have different functioning sub-types, depending on the faction that produced them.

Interceptor, by Corvus Forgers, is exempt from the possibility of subtypes thus far because the one that the Freelancer acquires is the first one ever created canonically.
Ranger MK.I, by Pre-Heart Antium Forgers, and Ranger MK.II, by Post-Heart Antium Forgers.

Vastly differing mechanically, physically, and structurally, the two types of Ranger-class javelins serve two very different, distinct roles. The MK.I is built to be a cheap, easily-produced infantry exoskeleton, while the MK.II is intended for more advanced and diverse military applications. The MK.I utterly lacks all of the features of a Freelancer or Dominion manufactured javelin, save for its (rather weak) propulsion system, shielding system, and physical improvement of pilot. The MK.II, on the other hand, is possibly the most advanced javelin to date, even when compared to the Dominion Valkyrie, being able to fill any role with similar or more efficiency to other javelins.

Storm, by Fort Tarsis Arcanists, and Valkyrie, by Dominion Cyphers.

While physically identical to the Dominion-made Valkyries, the Arcanists' re-engineered Storm is outclassed by its sister javelin. The Valkyrie allows its pilot to hover indefinitely and makes them completely immune to whichever element they are attuned to, some more advanced Valkyries being capable of swapping elements on the fly.

Colossus, by Pre-Heart Freelancer Forge-Masters, and Dawn Javelins, by Legion of Dawn Smiths.

The Javelins of Dawn, oddly, seriously outclass the Colossus in size, strength and sheer firepower. Dawn Javelins stand at least a foot taller than Colossi, as seen when Owen steals Tarsis's Javelin of Dawn and possess highly advanced, quick-charging railguns and pulse cannons.

It was originally stated that the Freelancers were uniquely qualified to pilot Javelins.[23] This is not the case however, as in-game lore states that the Legion of Dawn were the ones that were uniquely qualified, meaning the Freelancers, Dominion, and Sentinels, as splinter factions of the Legion, are all fully qualified to pilot Javelins.

Despite no physical training of any kind, both Sumner and Owen managed to take off in Javelins. Neither were able to properly operate their respective Javelin for long, with Sumner crashing and abandoning his stolen Ranger and Owen failing to realize that he lacked the means to use the Javelin of Dawn's Shield of Dawn, resulting in him being tortured by the Dominion for his incompetence.
In early builds of the game, javelins couldn't fly, but could only jump and glide.
References
↑ 1.0 1.1 1.2 1.3 1.4 1.5 Game Informer - Flying to a New Frontier: How Anthem Explores a Different Kind of Story
↑ YouTube - Strongholds and Interceptor Javelin Gameplay – Anthem Developer Livestream - December 20
↑ https://www.youtube.com/watch?v=q2CLPE2nfX0 Anthem News - Daiki Style Gaming]
Community content is available under
CC-BY-SA
unless otherwise noted.