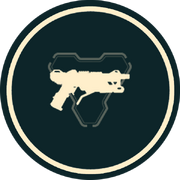 Heavy pistol are handheld weapons in Anthem.
Heavy Pistols have a very low fire rate and small ammo capacity. They operate on mid range, but punch a pack. They can do severe damage to enemies. Heavy pistols have exceptionally high weak point damaging capability, making them ubiquitous in weak-point builds.
Due to their size, Heavy Pistols can only be equipped by Ranger, Storm, and Interceptor.
List of Heavy Pistols
| Epic and Lower | Masterwork and Higher |
| --- | --- |
| | |
Inscriptions
Heavy Pistol Weapon class are affected by several inscriptions.

Damage Inscriptions
The following inscriptions affect Heavy Pistol damage:
Weapon Damage
Physical Damage
Damage
Heavy Pistol Damage
Weak point Damage
Quality Inscriptions
The Following inscriptions affect other qualities of Heavy Pistols:
Weapon Ammo
Weapon Magazine Size
Weapon Hip Recoil
Weapon Reload
Heavy Pistol Ammo
Consumables
Heavy Pistols are affected by the following consumables:
Trivia
There are heavy pistol components that aren't available to the player in game.
Along with Grenade Launchers, Heavy Pistols are classified as special arms.