"Valor to serve the people, regardless of their station.
Courage to bring silence when the Anthem sings.
Faith to keep my word and the word of my brethren.
Trust that the free answer when called.
Strong Alone, Stronger Together."
The Freelancers are a small[1] group of individuals tasked with safeguarding humanity and exploring the perilous lands outside the wall of Fort Tarsis.
Members of the Freelancers are sometimes called "lancers" as shorthand.[2]
Overview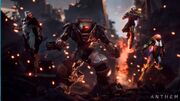 The Freelancers are not technically a military organization. They are a ragtag group that carries on the tradition of the Legion of Dawn, protecting the people of Fort Tarsis from the dangers of the outside world. They traditionally operate in squads of four (one different Javelin per squad member). While the Sentinels stay close to Fort Tarsis, Freelancers are tasked with venturing beyond the fort to deal with more esoteric threats.[3] They venerate Helena Tarsis.[4]
While in the field, Freelancers are supported by cyphers, who provide them with intelligence.[5] Every Freelancer team is given at least one cypher (sometimes more).[6]
History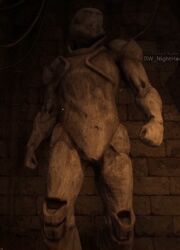 After the death of Helena Tarsis, the Legion of Dawn splintered into three factions. The Freelancers were one of these three, alongside the Sentinels and Dominion.[7] Using their Javelins, the Freelancers were able to safeguard humanity, who built new cities and a new civilization.[8] The Dominion remain the ancient enemy of the Freelancers.[9] The two groups remain in conflict.[10]
The Freelancers were sent to shut down the Heart of Rage Cataclysm, formed in the aftermath of the Battle of Freemark. The attempt ended in disaster, and suffering heavy losses, the Freelancers were forced to retreat in disgrace. Since then, the Freelancers are no longer revered as heroes, and have been forced to scrounge a living by taking mundane contracts throughout Bastion, trying to redeem themselves.[11] However, for all the glories of their past, their current deeds don't give them the same level of reverence they once did. In this period, they moved against the Dominion, as their attempted activation of Shaper relics was putting everyone at risk. To make matters worse, an invasive force known as Scars were also after the technology.[5] The Freelancers are still contracted for various tasks by the factions that operate within Fort Tarsis, but they fiercely retain their independence.[12]
Gameplay
In Anthem, every player creates and uses their own Freelancer pilot.
Known Freelancers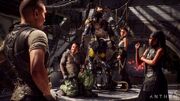 Former Members
Trivia
References
↑ YouTube - Strongholds and Interceptor Javelin Gameplay – Anthem Developer Livestream - December 20