"
The wall. It's our armor. It protects us from what lies beyond. But out there, you either live with the choices you make, or die trying to change them.
"
Fort Tarsis[1] is a structure inside the world of Anthem.
Overview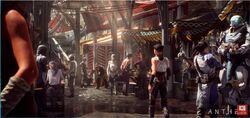 Fort Tarsis is a compound protected by a mega-structure called "The Wall", which shields humanity from the dangers of the outside world.[2] Automated turrets are located on it.[3] Fort Tarsis itself is a large, sprawling city, and is a place where humans can feel safe.[4]
Several powerful factions operate in the Fort, seeking out their own ends and often getting in each other's way, but inevitably these disparate factions end up in need of the services of the Freelancers,[5] who are commissioned to venture outside the fort to explore the uncharted lands beyond and gather resources for the inhabitants inside.[6] Fort Tarsis itself is guarded by the Sentinels.[2] Inside, merchants ply their wares.[7] In addition to the Freelancers and Sentinels, Corvus and the Arcanists are also in positions of power.[8]
The fort's effluence runs off to the Gathering Falls.[9]
History
The history of Fort Tarsis traces back to its namesake, Legion of Dawn leader General Helena Tarsis. It was her tireless efforts that lead humanity to a place of strength and security, where they could build a fortified city that would withstand the nightmarish threats that roam the lands.[8] The first site chosen to start construction of the original Fort Tarsis was damaged by a massive flood, creating a series of sinkholes. After a thorough series of seismic tests, construction began again at a different site. To this day, regular tests are performed under the current Fort Tarsis to monitor the foundation.[10]
As this beacon of hope ascended, humanity took its own strides forward, developing the resources and technology to thrive in some of the most hostile environments imaginable.[8]
Gameplay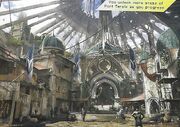 Players will not encounter other players within Fort Tarsis. It is effectively singleplayer only.[11] More of the fort is unlocked for exploration as players progress through the game. Players can choose between different Javelins here. Players will encounter NPCs (called "agents") here that will give them missions,[12] along with vendors.[13] More agents may be added post-launch.[13] As one plays through the game, Fort Tarsis (or at least its interior) will change, reflecting its people's rising spirits.[14]
Locations
The fort is comprised of several notable locations. For a full list, see:
Fort Tarsis locations
.
Known Inhabitants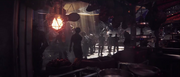 References
Community content is available under
CC-BY-SA
unless otherwise noted.