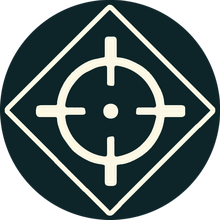 Enemies are hostile encounters outside Fort Tarsis walls.
Anthem has several types of enemies and each enemy has a sub-class or rarity within the types. Most enemies can be categorized by their factions: Dominion, Scar, Outlaw. Creatures such as Elemental Beings, Fauna, and Chimera can become enemies under certain circumstances. Equipment such as enemy Turrets and Mines can be considered enemies, especially if they have a target marked on them.
This article's purpose is to distinguish between the types and rarities of enemies. As the enemy type and rarity improves, their health pool also increases. However, the higher the rarity of an enemy, the better the quality of loot it has a chance to drops.
Targeted Enemies
If an enemy needs to be defeated during any expedition to make progress during that expedition, it will be marked with

and usually has a yellow glow around it. The mission won't continue unless that enemy is defeated, unless they are Seasonal Expeditions or Secret Bosses in Echoes of Reality. In Freeplay, all target enemies have a chance to drop loot.
A targeted enemy can be any classification of enemy except for the Boss, who is always found at the end of a Stronghold or a Cataclysm.
Enemy Classification
Enemies are Broadly classified as follows:
Enemy Rarities and Types
Enemy Rarities
Factions
Enemies
Elite Enemies
Legendary Enemies
Dominion

All other regular Dominion enemies mentioned above

All regular Dominion enemies except Thunder Fang and Ice Stalker

Scar
Outlaws
Fauna
Chimera

Ash Skorpion
Ash Brute
Storm Wyvern

Ash Skorpion
Ash Brute
Storm Wyvern

Elemental Beings

Elementals
Wyvern
Ash Titan

Enemy Equipment
Enemy Types
| Faction | Apex Enemies | Ancient Enemies |
| --- | --- | --- |
| Dominion | | |
| Scar | | |
| Fauna | | |
| Chimera | | |
| Elemental Beings | | |
Final Bosses