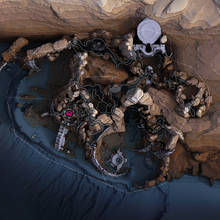 Castle Kelrik is the Fifth event inside Echoes of Reality. It was released during Week 3 of the Cataclysm.
Castle Kelrik is a fortress in ruins taken over by nature, setup with 3 turrets guarding it.
For highest score in any difficulty, it is best to keep the rift activated and not destroyed until absolutely necessary.
Echoes of Reality
Entry
There are 3 entryways: 1 From the underground Cistern through the Dark Passage inside the Labyrinth, the other two from New Dawn.
Gameplay
The central crystal is protected by a barrier which can only be unlocked by solving a tedious puzzle.
There are 10 relic holders around the castle with the image of a symbol. these symbols randomize , making this the toughest and most time-consuming event in the cataclysm. Follow this convention for an easier run.
| Shape | Image |
| --- | --- |
| 1 Square | |
| 2 Squares | |
| 3 Squares | |
| 1 Triangle | |
| 2 Triangles | |
| 1 Star | |
| 2 Stars | |
| 1 Cross | |
| 2 Crosses | |
| Hourglass | |
The puzzle requires 4 dodecahedron-shaped relics. Two of these relics are inside chambers on opposite sides of the castle. Besides each of these relic is another relic hidden behind a barrier.
To open the relic barrier, simply place the 2 relics on the holder that corresponds to the images above the chamber containing the relics behind barriers.
For example, if the images above the enclosed relic are 3 squares and 2 stars, find their corresponding holders and place the relic on them. There are red indicators above the enclosed relic which turn green when unlocked. Repeat for both the relics.
Once all 4 relics are available, place them on a holder each which corresponds to the image present under the central crystal.
For best results and avoiding unwanted confusion, only 1 Freelancer should do the puzzle and the rest should fight the enemies.
Once the crystal is in the open, destroy it to get the loot chest.
Secret Boss
The secret boss in this event is Valkyrie Kelrik. He can be summoned by placing 3 relics on the holders which correspond to the images located on the North facing castle walls.
He can be summoned before or after destroying the crystal, and defeating him will add 2000 points to the score (not considering the multiplier).
Season of Skulls
All enemies are changed into Scars.
Secret Boss
The secret boss in this event is a scar enforcer named Rustfire Father.
Rustfire Father is summoned in the exact same way as Valkyrie Kelrik is summoned. This is the only arena where the secret boss is summoned in the same way as the original Echoes of Reality.