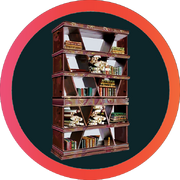 Cataclysm and their Effects is book published by the Arcanists and revised in several editions. From what is observed , the most recent is the 44th edition. It is very likely that the first edition was centuries old.
Collection Details
A total of 6 cortex entries make reference to the Cataclysms and their Effects.

The following excerpts from the book show what Cataclysms can do and how they change Coda, for the better or the worse.


Cataclysms (1)
See Cortex Entry: Cataclysms (1) for More Details
A violent, unpredictable disturbance created when the Anthem of Creation overwhelms a Shaper instrument. They often appear as an intense storm. While one Cataclysm may create bizarre new wildlife, another may shake the ground or force rivers to flow backwards. The only thing certain about a Cataclysm is that it cannot be predicted.

— From Cataclysms and their Effects, 1st Edition
Echo Mirages
See Cortex Entry: Echo Mirages for More Details
The first precept of Raban Maur's Theory of Amplifonic Force states that the creative force of the Anthem cannot be stopped or contained. An important rule to examine because it is not simply true in the grand sense, it's true at every scale.
In the case of echoes, for example: although they can often seem inert to the unaided eye, they inevitably transform the minerals and microorganisms surrounding them over time, and even eventually create new material. And it is a well-documented phenomenon that stronger echoes, possessing greater resonance, will take on temporary forms.
These echoes mimic flora and fauna to such an extraordinary degree that more than one unsuspecting traveler has mistaken one for a fellow human, and only learned their mistake at the end of a lengthy, if confusing, conversation, when the mirage abruptly vanished

— From Cataclysms and their Effects, 1st Edition
The Heart of Rage (1)
See Cortex Entry: The Heart of Rage (1) for More Details
An unending, violent Cataclysm created when the Dominion attempted to seize control of the Shaper relic known as the Cenotaph. The ensuing forces destroyed the city of Freemark.
The Heart Of Rage is like no Cataclysm we've seen before. The wind throws around enormous debris like children's toys. Striders have little chance of surviving the Cataclysm intact, and lancers have died attempting to travel inside. There is no immediate solution, but if its expansion remains unchecked, the creatures and destruction it creates will ravage the countryside. Shadowmark has already been evacuated. Fort Tarsis may eventually be next

— From Cataclysms and their Effects, 44th Edition
Shaper Relics (2)
See Cortex Entry: Shaper Relics (2) for More Details
While Cataclysms have been a constant in our world, we have chosen not to experiment with the Anthem of Creation. Scars have no such reservations. They seek out Shaper relics for their own purposes. The Scar Luminary who led the attack on the terraces used a relic to charge its weapons with extra firepower. In a separate attack, Junkhead sought to use a relic to make itself physically stronger. While a tempting experiment, Antium has declared that relics are simply too unstable to be safely manipulated by humans. As always, every effort should be made to keep Scars from accessing relics.

— From Cataclysms and their Effects, 41st Edition
The Bowl
See Cortex Entry: The Bowl for More Details
As one eyewitness attests, "The Cataclysm wasn't that big. We'd all seen worse. But as the freelancers were working to silence it… the lake water began to boil. And we were standing in it! Didn't even realize. If it wasn't for that Freelancer, we'd have been cooked like phiranix in a pot."

— From Cataclysms and Their Effects, 16th edition
The Vault (3)
See Cortex Entry: The Vault (3) for More Details
Known to wander, titans can be found almost anywhere on the continent. For this reason, many believe them to be natural creatures. However, every recorded Titan can be traced back to a Cataclysm as its point of origin. This proves that titans have a direct relation to Cataclysms, though the details are merely hypothetical at this point.

—From "Cataclysms and Their Effects", 30th edition