'Anthem' Official Cinematic Trailer
Anthem is an open world action role-playing multiplayer shooter developed by BioWare's Edmonton studio and published by Electronic Arts. It runs on EA's proprietary Frostbite engine (Frostbite 3) for PlayStation 4, Xbox One, and Microsoft Windows; it has been confirmed to run in 4K on the Xbox One X. The game released February 22, 2019, while a demo released on February 1.
System Requirements
OS: 64-bit Windows 10
Processor: Intel Core i5-3570 or AMD FX-6350
Memory: 8 GB RAM
Video Card: Nvidia GTX 970 4GB, AMD R9 390 8GB
Hard Drive: At least 60 GB of free space[2]
Story
In Anthem™, a new game from EA's BioWare studio, explore a landscape of primeval beauty, confront the dangers you find, and grow in power with every step.[3]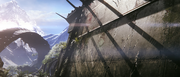 According to myth, "the gods vanished," and left the world in chaos. Now, the Anthem is all that remains.[4] In this futuristic, dystopian world, humanity has been isolated behind the protective wall of Fort Tarsis, shielded from the many dangers of the primeval lands beyond. Players act as Freelancers – a group of courageous individuals dedicated to protecting the people of Fort Tarsis from threats outside the wall.[5] The Freelancers are in conflict with the Dominion, who are trying to use a powerful force called the Anthem of Creation as a weapon.[6]

Gameplay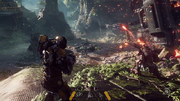 In this shared world, squads of up to four players embark on expeditions outside the wall of Fort Tarsis, discovering the many hidden mysteries and unforeseen dangers that lie beyond. With their powered Javelin exosuits, Freelancers can explore uncharted areas from the air, on ground and beneath water, with each suit fulfilling a unique playstyle and combat role. While exploring the outside world, Freelancers may also bear witness to world-changing events such as shaper storms, or encounter unanticipated dangers such as savage beasts and ruthless marauders.[5] Events are divided into tiers.
The game features a dynamic weather system, so some creatures will be more or less prevalent depending on the weather.
[7] The game has a day-night cycle.[8] A fast travel system exists.[9]
Fort Tarsis acts as a player hub, where Freelancers can interact with one another, upgrade their equipment, and acquire new quests.[5] When in the fort, the player assumes a first-person perspective until deployment; however, exploration and combat outside the wall happens from a third-person perspective.[10] Every player has their own home base.
The game can be played in both singleplayer and multiplayer modes, though every player will be affected by events in the latter.[1] The game requires an online connection to play,[11] and does not feature couch co-op. All of Anthem is equipped with a matchmaking system. The game does not feature voice communication.[8] PvP will not be featured at launch,[11] and there are no plans to implement it post-launch, but this is open to change. There is also no friendly-fire mechanic.[8] While players can play the game solo, there are some enemies that can only be taken down by a team.[12] AI companions will not feature.[13] Players will make choices in the campaign that will alter their relationship with allies and rival factions.[12] Gameplay will be balanced slightly if one is playing by themselves, but the game's difficulty is scaled to the assumption of one playing as part of a squad of four.[14] When on missions, players are 'tethered' together—getting too far from one's teammates will result in the player teleporting back to join them.[9]
While the game has a climax and conclusion in terms of plot, the game will continue after that.[8]
Romances will not feature,[15] as player relationships with NPCs are focused more on comradeship. However, it has been stated that a romance system could be added post-launch.[8] Conversations with NPCs will be more limited when compared to past BioWare games, but relationships can still be shaped based on how the player interacts with them. Regardless of how a relationship with an NPC changes, content will not be locked off.[16]
The game cannot be paused; bringing up a menu will not halt the game.[8]
The game will have emotes and a colorblind mode.[8]
Damage numbers come up when attacking enemies. The size of the numbers can be adjusted.[14] Enemies in the game fall under one of four factions—Scars, Dominion, Outlaws, and animals.[17]
Progress will not be cross-platform.[9]
Loot
In-game currency and crafting mechanics feature, as does loot. Loot will be divided into five or six levels, based on rarity. The quality of item drops depends on pilot level. Even if a player is paired up with higher leveled players, the loot that drops will still correspond to their level. Some loot is drop-specific in regards to enemies. Loot is instanced, and spawned for everyone; one player can't steal another's loot.[8] Loot is "biased" towards the Javelin the player is using when they find it.[18] There is no limit on the quality of loot that a Javelin can equip (e.g. an entire set of loot could be of the same rarity).[9] The tiers of loot are organized as follows:
Common
Uncommon
Rare
Epic
Masterwork
Legendary
Some crafting materials can be bought from merchants.
The game will not have lootboxes,[1] but cosmetic-only microtransactions will be present. With the exception of the Legion of Dawn cosmetics, all cosmetics can be earned in-game without microtransactions.[8]
Inventory is limited in space.[8] There will be no item trading between players at launch.[18]
In-game lore items can be found. The game will also utilize a codex system for collected lore.[8]
Individual gear does not level. Bosses do not drop specific loot.[9]
Gallery
Development
"It always had elements of real-world or sci-fi technology, but in a fantastic setting. There are these photographs of a place — I think it's in Kazakhstan — where, downrange from the Russian rocket launch sites, some of the stages of the rockets fall back to earth. So there's these beautiful green, pristine farmlands, and people living a very rural life, but then they will come across these pieces of crashed spaceship. And there is something amazing about these photographs. We said, 'This doesn't feel like sci-fi or fantasy. There's something in that.'"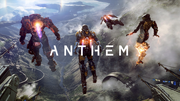 From the outset, it was intended that the game be different to Mass Effect and Dragon Age. Various ideas were pitched at the start of development. Some had the game taking place inside cities, in a manner similar to Grand Theft Auto. Some were "countryside concepts," similar in style to games made by Bethesda. An Arabian Nights-style game was pitched, alongside traditional sci-fi and fantasy ideas, along with an urban fantasy idea. Along the line, it was reasoned that BioWare had one Tolkein-esque IP with Dragon Age, and one space opera IP with Mass Effect. Thus, this new IP had to feel different.[19]
Development on Anthem began in 2012, after the release of Mass Effect 3.[20] Originally, Anthem was reported under the codename "Dylan", with BioWare stating they were aiming to create "the Bob Dylan of video games – one that would be referenced for years to come".[21] Early demos in the game involves players out in the wilderness utilizing a javelin (or equivalent), but without the same style of traversal that features in the final product. At this stage of development, ideas that would make it to the final product had formed—the idea of being in a dangerous world where there are pockets of civilization just holding on and fighting to survive. It was decided that this wouldn't be a "zombie survival" type of scenario, with humanity slowly being whittled away, but rather the idea of humanity being out of scale with the world around them. A world built for larger creatures.
Pre-production on the game proceeded slowly, at first, as BioWare focused on hitting immediate milestones. EA encouraged BioWare to utilize Frostbite in the game's development.[19] On 10 June 2017, an official teaser for the game was released during EA's EA Play pre-E3 press conference.[22] The following day, pre-alpha 4K gameplay footage running in real-time on the Xbox One X was showcased at E3 2017.[23]
The development team behind the game is the largest in BioWare's history.[24]
The PC and console versions were developed for simultaniously.[8]
The game is rumored to be EA's response to social-action video game franchises such as Activision's Destiny and Ubisoft's The Division. In an earnings report in May 2017, EA CEO Andrew Wilson had the following to say in regard to Anthem:[25]
"We are very pleased with the progress of our new action IP from BioWare. The design is stunning, gameplay mechanics are excellent, and the action will be exhilarating. This game is built around a live service, and through our creative process, we've decided to add more to the disruptive new social designs for our players."
The lack of PvP was intentional, as it allowed the developers to be more broad with gear and armor without having to worry about balance. The use of first person in hubs such as Fort Tarsis was done to convey their claustraphonic feel. The lack of AI companions in the field is due to the game's verticality; game AI was not advanced enough to account for these obstacles.[8]
On September 27, 2017, director of the game Jonathan Warner announced that there will be a beta. [26]
The original soundtrack of Anthem will be composed by Los Angeles-based composer Ted Reedy.[27]
The game will receive post-launch content, but will not have a season pass. Post-launch content will include more story content and new game spaces. BioWare is open to adding holiday-themed content post-release. As of June 2018, BioWare had not stated whether this will include paid DLC.
[8] In September 2018, it was confirmed that all post-launch story content would be released for free.[28] The game will not receive expansions, but rather a steady stream of new content.[29]
There is currently no plan for cross-platform play.[8]
During development, members of the team come together on Fridays (dubbed "Anthem Fridays") to discuss various elements of the game.[17]
Marketing and Release
BioWare Edmonton teased the game at E3 2014. Anthem was officially teased during EA's EA Play pre-E3 press conference on June 10, 2017.[30] Gameplay was demonstrated for the first time during Microsoft's E3 press conference, the next day running on Xbox One X.[31]
It is set to be released in late 2018 for PC, PlayStation 4 and Xbox One.[31] According to Patrick Söderlund, EA's vice president, BioWare plans to support the game with new content and updates long after the game's official release, and that its launch will be "the start of maybe a 10-year journey" for BioWare. [32]
A demo will release on January 25. The demo was set in the middle of the game's plot, and differed from the final release in terms of balance and in-game economy.[33]
Reception
Pre-release
According to YouTube, Anthem was the eighth most viewed game of E3 2017. [34]Following the event, Anthem placed third for IGN's Best of E3 People's Choice Award, ranking behind Marvel's Spider-Man and Super Mario Odyssey.[35]
Post-Release
The game received mixed to average reviews with scores ranging between late 50s and mid 60s on metacritic. For publications, it ranged between 5/10 to 7.5/10. This unfortunately made Anthem the lowest scored Bioware game ever [36].
Anthem was the best selling game of February 2019.
Regardless of the physical sales being fewer than 6 million[37][38], the game was a financial success making it among the top 10 best selling games of 2019 until November and the 15th best selling game overall in 2019[39]. Anthem also had a digital revenue of over $100 Million in March 2019 [40].
Due to these two reasons, it was announced that Anthem would no longer receive any updates on February 2020, however, Bioware will be working on a new build of the game from scratch[41].
Trivia
BioWare Game Director Jonathan Warner has revealed that the name "Anthem" was chosen due to the unifying nature of the word:[42]
"An anthem is something that unifies a group of people. It's something that gives them a sense of purpose that's bigger than themselves, and that's definitely something we wanted to imbue the IP with and imbue the game and story with as well."
The frame rate for the PC version will not be locked. It can be played with a controller.[8]
It has been indicated that the game will reference BioWare's other franchises.[8]
The game will possibly receive tie-in merchandise.[8]
The game's genre has explicitly been referred to as science fantasy rather than science fiction. The developers have compared it to comic books (such as the Marvel universe) in this sense, along with distinguishing it from the more science-focused Mass Effect series.[43]
There will be no nudity in the game.[44]
Special Editions
Legion of Dawn Pre Order:
VIP Access to Pre-launch Demos
One Legendary Armour Pack for each Javelin
A Legendary Weapon
Founder Player Banner
Ranger Javelin Gear
Legion of Dawn Legendary Graphic
Legion of Dawn Metal
Anthem Digital Soundtrack
Standard Pre Order:
VIP Access to Pre-launch Demos
Ranger Legendary Armor Pack
A Legendary Weapon
Legion of Dawn Legendary Graphic
Legion of Dawn Metal
Founder Player Banner
Post Release Legion of Dawn Edition:
One Legendary Armour Pack for each Javelin
A Legendary Weapon
Ranger Javelin Gear
Legion of Dawn Legendary Graphic
Legion of Dawn Metal
References
External Links
Community content is available under
CC-BY-SA
unless otherwise noted.