The Alliance System earns you and your friends Coin by recording your gained XP per week. Even after hitting level 30, you still gain the usual amount of XP, but these XP don't contribute to anything anymore besides your Alliance Rank.
Anytime you complete an expedition (Mission, Contract, Freeplay, or Stronghold) you earn experience. That experience will be counting towards increasing your Alliance Rank. You also gain a share of the experience of your squad members (random or friend doesn't matter here) per expedition, which roughly doubles the XP gain (if you normally would have gained 3000 XP solo, when playing with three other players of similar skill, you end up in the region of 6000 XP).
The top five Contributors to your "Alliance" are then taken into account at the end of the week. The game automatically chooses the top five and you can check on your current standings and the selected friends in the enclave.
One of these slots can be taken by the top contributor of all random players you played with, the remaining slots will either be friends or empty.
Friends contribute 5x the Coin compared to the top random player, which results in friends almost always taking priority for the top five slots over the top random one, unless your friends are very inactive.
Important: Contributions are not made retroactively, they only count from the moment you add them to your friend list (or played with the random player who ended up as your top random contributor). This is why it is emphasized, that friends need to be on your list, when the weeks starts, not added on later. Check the examples for details on this.
How to maximize your earnings?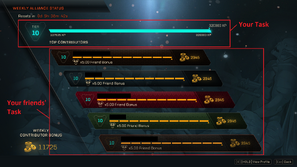 There are two tasks for earning as much Coin as possible every week:
Increase your Alliance Rank as much as possible before the weekly reset by doing expeditions (Your Task). The current maximum Rank is Rank 10+ (see notes)
Have at least five people on your friend list, who are also Rank 10+ (Your friends' Task) and have been on your friend list for the whole week
If both conditions are met, you will receive the maximum amount for a given week:
You with Rank 10+, five friends with Rank 10+: 11725 Coin total
You with Rank 10, five friends with Rank 10(+): 10525 Coin total
The general rule is: You cannot get more contribution than your own rank from your friends (aka your rank represents the size of the piggy bank your friends are contributing to, if you piggy bank (rank) is 5, you will only earn Rank 5 earnings from your friends, no matter if the friends are actually higher)
Notes
Rank 10+: overall 320.000 XP earned, therefore maxing out Rank 10, acts essentially as getting it to Rank 11, this is not particularly well shown nor explained ingame and only becomes apparent when visiting the Alliance overview in the enclave

Expedition results will show "Max Tier" after hitting Rank 10, but earned XP will fill up the XP circle one more time until it is full, you can also check the enclave to see this

You do not ever have to have played with any of your "friends" during the week (or at all), having them on your Origin friend list, when the week starts, is sufficient
Adding friends during the week results in only counting the ranks (XP) earned since addition, the Ranks already earned before addition will be shown in red, no retroactive awarding.
In case friends were added later during the week, their earned XP still increases the contributing Rank, even if the player was maxed out (this means: If the contributor continues playing after reaching Rank 10, they will close the gap between real Rank and contributing Rank for you)

This also means, if the contributor earns all 10+ Ranks worth of XP while being on your friend list, you will get full contribution, independent of when they were added and when they hit real Rank 10+

If you do not have enough or too inactive friends, one slot can be replaced by the top random player you played with. This slot then lacks the 5x multipler for friends, therefore possible earnings on this slot are lower
Examples
Fully maxed out
Player is Rank 10+, experience bar is maxed out at 320.000 XP on Rank 10
All friends are Rank 10+ and were on the friend list before the week started
Maximum possible earning: 11725 Coin
Not maxed, more complicated example taken from reddit user IceFire2050[1]
Note: Picture from different week (Early Access, overall Coin earnings were much lower, had been adjusted at launch)
Disclaimer: This is the authors interpretation/assumption, as there is no official explanation to this available
Player is "only" Rank 10 not 10+, bar is not maxed out --> missing out on up to ~10% earnings
None of the friends were on the friend list from the beginning of the week

Contributor 1 and 2 are Rank 10(+), but only 9 Ranks have been earned while being on the player's friend list
Contributor 3 is Rank 10(+), but only 8 Ranks have been earned while being on the player's friend list
Contributor 4 is Rank 9, but only 7 Ranks have been earned while being on the player's friend list
Contributor 5 is Rank 10(+), but only 7 Ranks have been earned while being on the player's friend list

This player is lower on the list than a Rank 9 player (or tied really), because only the earned Ranks while being on the friend list counted
This also shows that real Rank doesn't matter, if the player wasn't on your friend list, as one can see a Rank 9 and 10 friend contribute the same amount of Coin
Second example with Allies Contribution by reddit user SkySweeper656 [2]
Note: Picture from different week (Early Access, overall Coin earnings were much lower, had been adjusted at launch)
Disclaimer: This is the authors interpretation/assumption, as there is no official explanation to this available
Player is Rank 5
1. Slot: Top contributor and only friend, who played Anthem this week, is Rank 2
2. Slot: Since not all slots are filled, the top random player of all people, the player played with, is contributing

This random player is real Rank 3, but earned two of those ranks before he/she played with our player, therefore only contributing Rank 1
Additionally, the top random contributor doesn't multiply your earnings by factor 5

Remaining slots are empty, because there are no more friends and randoms can only take up one slot
References